Radio Aurora Explorer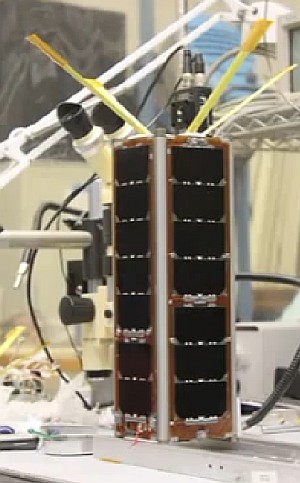 Am 28. Oktober startete eine Delta II von Vandenberg um den Wettersatelliten NPP ins All zu bringen. Auf der Trägerstufe waren zudem 3 P-PODs montiert, die 6 Cubesats beinhalteten. Die Delta-II hob um 09:48 UTC ab und setzte genau eine Stunde später NPP in seinen Orbit. Um 11:26 UTC öffnete sich der erste P-POD mit AubieSat-1, Explorer-1 Prime (E1P) und M-Cubed (in dieser Reihenfolge ausgestoßen).
11:28 UTC erfolgte die Bestätigung, dass RAX-2 erfolgreich aus dem POD-2 gestartet wurde.
NASA-Catalog: 37853
Bake
437.345 MHz 9k6 GMSK, FM (750mW)

Telemetriebake RAX-2 9k6 FSK
Call
RAX-1
Es wurde vergessen, dass Call auf RAX-2 zu ändern 😉
Orbital Parameter
NORAD                   37853
COSPAR designator       2011-061-D  
Inclination             101,708
RA of A. Node           318,458
Eccentricity            0,0252651
Argument of Perigee     122,433
Revs per day            14,78286795
Period                  1h 37m 24s (97.40 min)
Semi-major axis         7 013 km
Perigee x Apogee        458 x 812 km
BStar (drag term)       0,000263180 1/ER
Mean anomaly            240,157

Status
nicht mehr aktiv
Telemetrie
Original Beacon Decoder software here.
RAX-1 sendet aller 20s einen 9k6 Datenburst (RAW DATA). Der TNC muss sich daher im KISS Mode befinden. Zur Dekodierung dieser Daten wird ein Standard-KISS File benötigt. Es werden ausgewählte Telemetriekanäle angezeigt und graphisch dargestellt. Zusätzlich wird ein CSV File mit allen Telemetriewerten wird erzeugt. Achtung! Nicht alle Telemetriekanäle sind valide (unbenutzt oder uncalibriert).Download Version 1.0 [18.12.2010]
Homepage und weitere Informationen
QSL-Karte