Budapest University of Technology and Economics
MaSat-1 is a CubeSat project of the Budapest University of Technology and Economics, Budapest, Hungary (in Hungarian abbreviated as BME and in English as BUTE). The goal is to introduce undergraduate students to circuit design, as well as to train a sufficient number of space specialists, thus facilitating future selection processes for spaceborne developments. The mission objective is to demonstrate various spacecraft avionics, including a power conditioning system, transceiver and on-board data handling.
MASAT-1 decayed on 09.01.2015 around 22:35 UTC.
MaSat-1 complies to the 1U CubeSat form factor of size 10 cm x 10 cm x 10 cm and a mass of = 1 kg. The objectives of the CubeSat mission are:
Demonstrate an EPS (Electrical Power System) designed and built by students, which includes 6 independent MPPT (Maximum Power Point Tracker) for each solar array.
Test Lithium-Ion Polymer batteries used as energy storage in space environment
Test a new communication system based on an ISM (Industrial, Scientific and Medical) band transceiver
Test a packet telemetry and telecommand concept based on ESA standard (ECSS-E-70-41A)
Demonstrate an on-board data handling system based on a single board computer using digital signal processor
Demonstrate a semi-active magnetic stabilization system based on magnetic torquers. The attitude is sensed by: 3-axis gyroscopes, 3-axis magnetometers, 3-axis accelerometers, and sun sensors made of IR sensors.
The CubeSat has an expected lifetime of > 3 months, the EPS provides an input power of 1.2-2.2 W.
NASA-Catalog: 38081
Downlink
437.345MHz, 2-FSK (GFSK), FM (200mW)

GFSK Signal
Call
HA5MASAT
Status
DECAYED
Orbital Parameter
NORAD                   38081
COSPAR designator       2012-006-E  
Inclination             69.487
RA of A. Node           200.689
Eccentricity            0.0777369
Argument of Perigee     23.113
Revs per day            14.06273442
Period                  1h 42m 23s (102.38 min)
Semi-major axis         7 250 km
Perigee x Apogee        309 x 1 436 km
BStar (drag term)       0.000907600 1/ER
Mean anomaly            340.308

---
---
Mission
Anfertigen von Digitalaufnahmen der Erde und Messung der Strahlungsumgebung im Orbit
13.02.2012, 12:10 UTC – first decoded MaSat-1 telemetry – very low 3 deg pass
Telemetrie Dekodersoftware
Download der Software
WAV Testfile
QSL Card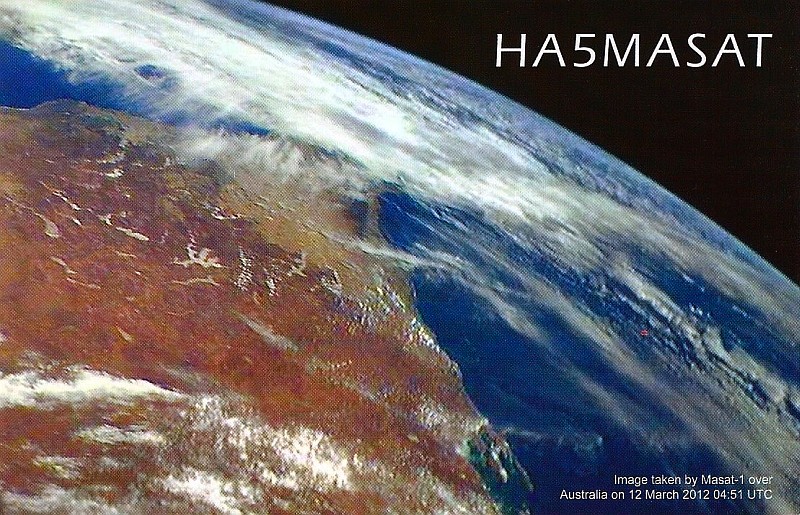 Links und weitere Informationen
Launch
T0+ 4245.30secs 1st PPOD, with XatCobeo, e-st@r, and Goliat
T0+ 4255.30secs 2nd PPOD, with Robusta, MaSat-1 and PW-Sat
T0+ 4265.30secs 3rd PPOD, with UniCubeSat
T0+ 4275.30secs AlmaSat-1