Subpayload of FASTSAT HSV 01
One objective of the NanoSail-D project is to demonstrate the capability to pack and deploy a large sail structure from a highly compacted volume. This demonstration can be applied to deploy future communication antennas, sensor arrays or thin film solar arrays to power the spacecraft.
NanoSail-D will be deployed 400 miles up after it's launched this fall aboard a Minotaur IV rocket, part of the payload aboard the Fast, Affordable, Science and Technology Satellite, or FASTSAT. The relatively low-deployment altitude means drag from Earth's atmosphere may dominate any propulsive power it gains from the sun, but the project represents a small first step toward eventually deploying solar sails at much higher altitudes.
When fully deployed, NanoSail-D has a surface area of more than 100 square feet and is made of CP1, a polymer no thicker than single-ply tissue paper. The first big challenge for researchers was to pack it into a container smaller than a loaf of bread and create a mechanism capable of unfolding the sail without tearing it.
Launched as part of the STP-S26 mission on Nov 20th, 01:24 UTC from Kodiak, Alaska on board a Minotaur IV rocket. All satellites are placed into a 650 km altitude, 72 degree inclination circular orbit.
The original NanoSail-D spacecraft was lost during an anomalous launch from Kwajalein Atoll on the SpaceX Falcon 1 launch vehicle (Aug 2, 2008). NanoSail-D2 was the flight spare for that launch.
NASA-Catalog: ?
RF spectrum at 437.273 MHz, beacon every 5 sec
Call
KE7EGC
Mission runs on primary batteries hence mission duration is short (~3 days communication, 70-100 days to re-entry).
Status
06.12.2010, 06:30 UTC NanoSail-D2 have been successfully deployed over Australia.
06.12.2010, 07:35 UTC 3 deg pass – nothing heard
06.12.2010, 10:53 UTC 36 deg pass – nothing heard
06.12.2010, 12:32 UTC 42 deg pass – nothing heard
18.01.2011, 03:00 UTC NanoSail-D2 ejected spontaneously from FASTSAT
18.01.2011 active and sending telemetry 1k2 AKSK
21.01.2011 03:00 UTC sail and panels deployed, S-Band ON
21.01.2011 09:00 UTC Battery voltage ~ 7 volts
21.01.2011 15:30 UTC only 2 very weak beacons heard but not decoded
21.01.2011 16:00 UTC last beacon heard, Battery voltage ~ 6.7 volt
21.01.2011 17:10 UTC nothing heard over Europe
Mission Phase
Launch + 7 days      Ejected w/beacon on
Launch + 10 days     Sail deployed - full comms
Launch + 12 days     Sail deployed - no power
Launch + 100 days    De-orbit

---
Telemetrie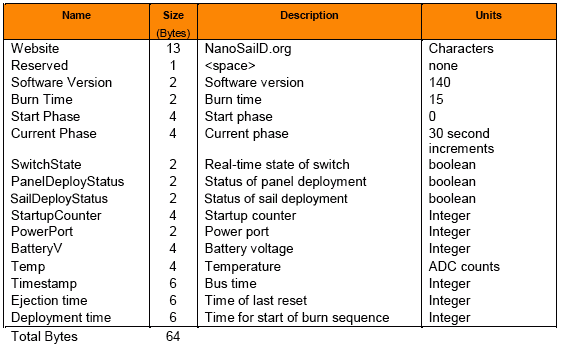 NanoSailD.org 8C0F0000C81D00000004008A7C020000814BC47ACFC0000000
NanoSailD.org 8C0F0000CC1D00000004008A7B020000F94BC47ACFC0000000
NanoSailD.org 8C0F0000CC1D00000004008A7D020000F94BC47ACFC0000000
NanoSailD.org 8C0F0000CC1D00000004008A7C020000F94BC47ACFC0000000
NanoSailD.org 8C0F0000CC1D00000004008A7D020000F94BC47ACFC0000000

Telemetrie 20.01.2011 sail undeployed
NanoSailD.org 8C0F0000D32101010104008B740200004BD6C47ACFC0F9C3C4
NanoSailD.org 8C0F0000D32101010104008B74020000C3D6C47ACFC0F9C3C4

Telemetrie 21.01.2011 sail deployed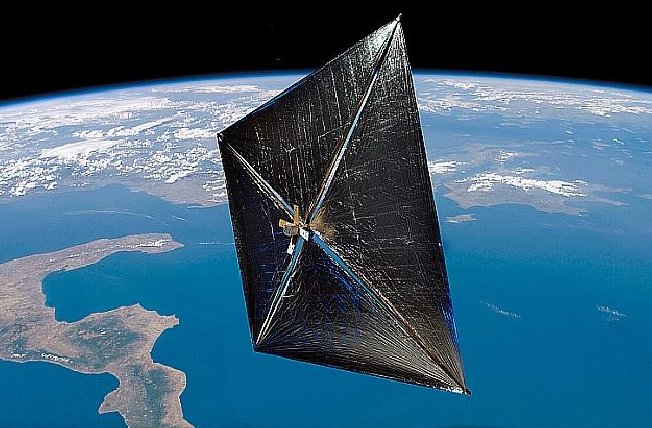 Homepage und weitere Informationen
http://nanosaild.engr.scu.edu/dashboard.htmhttp://directory.eoportal.org/presentations/10000716/10002983.htmlhttp://www.nasa.gov/mission_pages/smallsats/nanosaild.html
Empfangsberichte und QSL
Amateur radio operators can submit beacon packets here.
---
Launch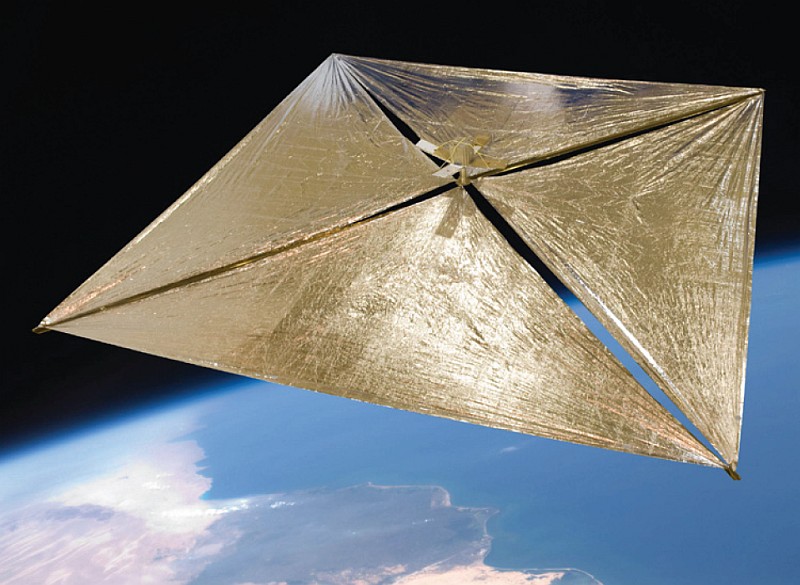 ---
NanoSail-D1
Am 25. Juni 2008 sollte von Omelek Island (Reagan TestSite Kwajalein) eine Falcon-1 Rakete als Hauptnutzlast den PnPSat-1 (Plug-and-Play-Satellite / AFRL) und zwei neue Triple-Cubesats (10x10x30cm) ins All bringen. Die Ronald Reagan Ballistic Missile Defense Test Site (RTS) ist eine Raketen-Teststation im Pazifik. Sie beläuft sich auf etwa 750.000 Quadratmeilen und beherbergt Raketenabschussanlagen auf dem Kwajalein-Atoll (auf mehrere Inseln verteilt), dem Wake-Atoll und dem Aur-Atoll. Ihre Hauptaufgabe ist die Durchführung von Raketentests für die US-amerikanische Raketenabwehr und des Raumfahrt-Forschungsprogramms. Das Kontrollzentrum ist ebenso wie die meisten Personal- und Infrastruktureinrichtungen auf dem Kwajalein-Atoll auf den Marshall-Inseln lokalisiert.
Der Orbit war mit 685 x 330km, die Inklination ist mit 9° angegeben – somit wäre ohnehin ein Empfang in Europa unmöglich. Die Mission bestand im Entfalten eines 10m² großen Sonnensegels. Aufgespannt und getragen wird es von sogenannten Elgiloy Trac Booms. Zur Lagestabilisierung werden Permanentmagneten eingesetzt.
Die Lebensdauer war mit 5-14 Tagen berechnet.
NASA-Catalog : ?
Call
?
Downkink
437.269 MHz, FM 1k2 AFSK. AX.25
aller 10 Sekunden
Status
Die Falcon-1 Rakete konnte aufgrund einer Drehbewegung nicht ihren Orbit erreichen. 10 Minuten nach dem Start zündete die 2. Raketenstufe und die Rakete kippte weg.
Homepage und weitere Informationen
http://www.nanosaild.org
NanoSail Presentation (PDF)