University of Surrey
Deorbitsail is a 3U cubesat satellite mission that will launch and deploy a 5 m x 5 m, four-quadrant sail to demonstrate deorbiting.
NASA-Catalog: 40719
Beacon
145.975 MHz, 1k2 BPSK
Call
DOS
Status
ACTIVE
Orbital Parameter
NORAD                   40719
COSPAR designator       2015-032-E  
Inclination             98.051
RA of A. Node           96.026
Eccentricity            0.0016062
Argument of Perigee     201.560
Revs per day            14.74596234
Period                  1h 37m 39s (97.65 min)
Semi-major axis         7 025 km
Perigee x Apogee        635 x 658 km
BStar (drag term)       0.000066596 1/ER
Mean anomaly            158.496

---
---
Mission
The DeorbitSail project is a collaboration to build a 3U CubeSat sized satellite with a deployable sail that will demonstrate rapid deorbiting. The deorbiting capability of the DeorbitSail satellite is due to increased aerodynamic drag from the large surface area of the deployed sail in a Low Earth Orbit (LEO). From our proposed concept, the satellite will return to the Earth and burn up in the atmosphere over time as its altitude reduces.
Telemetry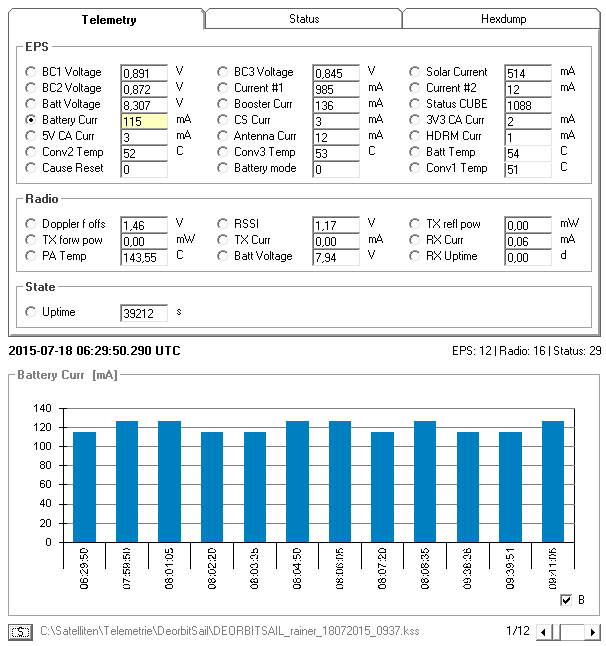 Homepage und weitere Informationen