Open Source Satellite Initiative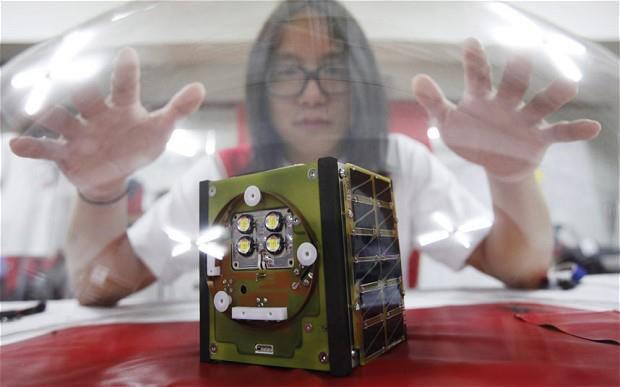 Artist and radio amateur Hojun Song DS1SBO has spent 7 years developing his Open Source Satellite Initiative satellite OSSI-1. He has designed and developed it from scratch using readily available components rather than expensive space qualified hardware. It has a beacon in the 145 MHz band, a data communications transceiver in the 435 MHz band and carries a 44 watt LED optical beacon to flash Morse Code messages to observers on Earth. OSSI-1 was launchend aboard a Soyuz-2.1a with BION-M1 (main payload) and BeeSat-2/-3, SOMP and DOVE-2 from Baikonur at 10:00 UTC on the April 19, 2013.
NASA-Catalog: 39131
Downlink
437.525 MHz FM 1k2 AKSK AX.25
Beacon
145.980 MHz CW 12 wpm
Call
DS1SBO
Status
DECAYED
Telemetry / Beacon Format
OS0 Packet - "OS0 DE OSSI1 ANYOUNG"
OS1 Packet - "OS1 XYXYXYXYXYXYXYXY"
OS2 Packet - "OS2 XYXYXYXYXYXYXYXYXYXY"
OS3 Packet - "OS3 XYXYXYXYXYXYXYXYXYXY"
OS4 Packet - "OS4 XYXYXYXYXYXYXYXYXYXY"
OS5 Packet - "OS5 XYXYXYXY"

XY = byte formated in hex numbers.
OS0 Packet: Hello Data
Fixed Data. If the system suffers from the failure, this is the only message you' going to hear. ANYOUNG means hello in Korean.
OS0 DE OSSI1 ANYOUNG

OS1 Packet: Status Data
This packet tells us the basic status information of the OSSI-1 Satellite:
OS1: Packet Header
Space: There is a space between the header and the data
Operation Mode: satellite operation mode
Module On Status: which modules are on now
EPS Status: Status of the EPS module
Error Status: Last Error Occured
OBC Tick Count 3: 32 bit Tick Counter of the OBC since it's working divided into 4 bytes - MSB
OBC Tick Count 2: 32 bit Tick Counter of the OBC since it's working divided into 4 bytes
OBC Tick Count 1: 32 bit Tick Counter of the OBC since it's working divided into 4 bytes
OBC Tick Count 0: 32 bit Tick Counter of the OBC since it's working divided into 4 bytes - LSB

Operation Mode
BOOT_MODE = 0
DEPLOY_MODE = 1
NORMAL_MODE = 2
LED_MODE = 3
SAFE_MODE = 4
RECOVERY_MODE= 5
TEST_MODE = 6

Module On Status
The data will be OR-ed from the below to show the status at the same time
COMMS_ON = 0x01
BEACON_ON = 0x02
LED_ON = 0x04
EPS Status

The data will be OR-ed from the below to show the status at the same time. Tricky to decode as the below using upper and lower 4 bits to show the status
BATTERY_MODE = 0x01
SUPERCAP_EN = 0x02
SUPERCAP_PATH_ON = 0x04
BATTERY_CHARGED = 0x08
BATTERY_FAULT = 0x10
SUPERCAP_CHARGER_EN = 0x20
SUPERCAP_CHARGED = 0x40

Error Status
Last saved error
OBC Tick Count

The OBC saves the tick count in second unit. It uses 32 bit variable, so to send the count in morse code, it got divided into 4 bytes and then again into hex format. Tick Count 3 is the MSB
OS2 Packet: VI Data
Voltages and currents of the OSSI-1 Satellite:
OS2: Packet Header
Space: There is a space between the header and the data
Solar Voltage: Voltage of solar panels befor going into EPS module
Battery Voltage: Voltage of the Lithium-Ion Battery
Bus Voltage: Voltage of the system after the EPS module (unregulated)
Supercap Voltage: Voltage of the supercapacitor on board
-X Solar Panel Current: Current of the -X Solar Panel
-Z Solar Panel Current: Current of the -Z Solar Panel
+Z Solar Panel Current: Current of the +Z Solar Panel
-Y Solar Panel Current: Current of the -Y Solar Panel
+Y Solar Panel Current: Current of the +Y Solar Panel

---
Links und weitere Informationen