Soka University
Four CubeSats launched on May 20, 2010 21:58 UTC together with PLANET-C which belongs to JAXA by H-IIA rocket.
Mission: Earth imaging and image compression
NASA-Catalog: 36575
Downlink
437.305 MHz CW 0.1 W
437.305 MHz FM, 1k2 GMSK AX.25, 0.8W
Call
JQ1ZEX
Oribital Parameter
Inklination (Grad)          29.966
RAAN                        238.903
Excentrizität               0.0000001
ARGP                        120.725
Umläufe pro Tag             15.90813690
Periode                     1h 30m 31s (90.52 Min)
Semi-major axis             6678 km
Perigäum x Apogäum          300 x 300 km
Mean Anomaly                357.125

Aufgrund der geringen Inklination werden wir NEGAI* in Deutschland nicht empfangen können.
Status
nicht mehr im Orbit
Empfangsberichte
20:33 UTC 437.305 MHz CW-Beacon Thanks Kuge san, JE1CVL and Kasei san, JA1GDE
SOKA013AEB0071000D208182DAFF12C8D1
SOKA013B300071000D208183FFFF15C9D1
SOKA013B770071000D208179DAED0DC9D0
SOKA013BBD0071000D208173DAC208CAFF


CW beacon
Robert, NH7WN: Shortly thereafter I heard CW at a speed similar to COMPASS on frequency 437.305 MHz. For a short time I tracked Celestrak's OBJECT A2010:020A at 17 deg. maximum elevation AOS from the west tracking slightly to the SE. The signal was fading severely and I was unable to make any reasonable copy. Characters I did hear appeared to be:
1… (numbers) DDEFE0 EG CO/710

Very difficult with D700 (FM/Fades and 5 KHz steps in Doppler!!!): BUT something was there where Celestrak said OBJ. A would be !! No packets heard: Only CW. Time 2051Z; azimuth 224 deg at 17 degs elevation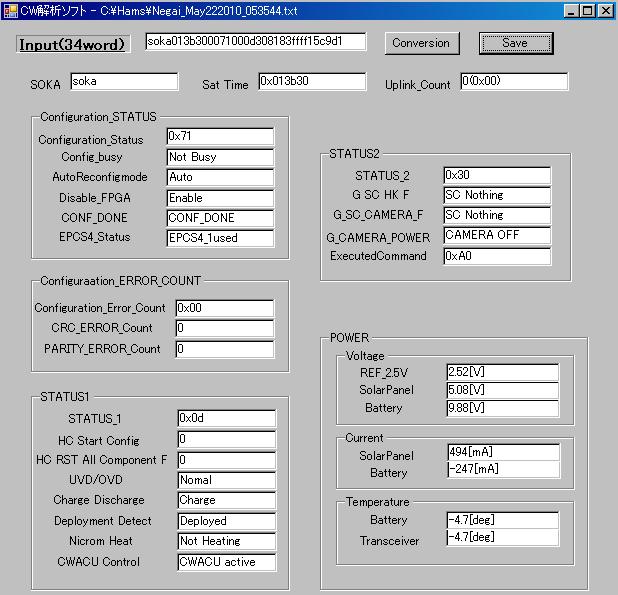 On May 29, 2010 I made an exciting experiment together with my friend Tetsu san JA0CAW. Since we can not hear NEGAI* in Central Europe we established a live link between our stations. Tetsu gave me access to his PC via remote control (VNC) and I could control his transceiver. We established a second connection via skype for audio.

CW beacon of NEGAI via skype
The audio quality was excellent and I could hear NEGAI at a 10 deg pass over the Pacific Ocean. Thank you Tetsu san.
---